Help us keep Claiborne Parish beautiful!
September 20, 2022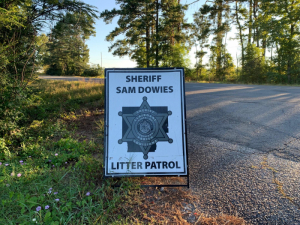 81% of litter is intentional. Motorists and pedestrians generate 70% of all roadside litter and 16% comes from trucks with improperly covered loads. The overwhelming majority of litter in parks and playgrounds —98.5%—is attributable to pedestrians.
What is litter?
Litter can include paper, fast food wrappers, beverage cans, Styrofoam, cardboard, plastic bottles, cigarette butts, tire parts, plastic bags, clothing, and even biodegradable items. When not disposed of properly, your trash adds to Louisiana's litter problem.
Litter is harmful.
Our wildlife is in danger and habitats are being destroyed. Birds and marine life often become entangled in fishing line or consume cigarette butts.
Litter is costly.
In Louisiana, an estimated $40 million in taxpayer dollars are spent each year on litter removal, abatement, education, and enforcement. It costs $11.5 billion every year to clean up litter in the U.S.
Litter is illegal.
The penalties for littering in Louisiana range from $150 to $10,000 and include the possibility of community service, a one-year driver's license suspension and even 30 days of jail time.